Higher education jobs at Yachay Tech University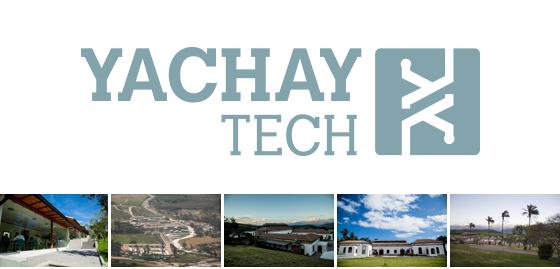 "YACHAY, THE MOST IMPORTANT PROJECT OF ECUADOR WITHIN THE LAST 100 YEARS"
-President Rafael Correa, 2013
Yachay Tech is an emblematic university with international projection, strategically located in the heart of Yachay, City of Knowledge in Ecuador. The goal is the establishment of a University of excellence in research and training of highly specialized human talent, and with the vision to become a regional center of science and technology
Yachay Tech has been founded with the expressed wish of the Republic of Ecuador to create an international, research university which promotes innovation. This unique institution should first have a profound positive impact to the productive matrix of the nation consistent with the national plan for "good living". It should also be a magnet of human talent from Latin America and across the world and should finally serve as Latin America's first truly international institution.
With the above considerations in mind, the academic and research thrusts were designed (1) to serve the needs of Ecuador, (2) to provide both the necessary basic science breath and technological specialization so that Yachay can compete with the best institutions in international academia.
For each of the six chosen areas of strength, two departments (one concentrating on basic science and the other on technology or engineering) are combined under the umbrella of a single school headed by a Dean.
The collection of the twelve departments then results in the six independent schools, which are:
Life Sciences and Biotechnology
Chemical Sciences and Engineering
Physical Sciences and Engineering
Information Sciences and Technology
Geological Sciences and Engineering
Social Sciences and Innovation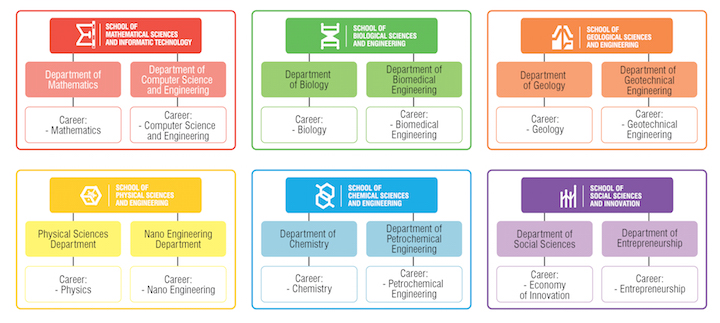 The concept for administratively combining, (rather than segregating) sciences and engineering in each intellectual unit is new and a CHARACTERISTIC FEATURE of Yachay Tech. Moreover it is believed that it will serve the needs of Ecuador especially well. Indeed, the stated mission of Yachay Tech is complex and aims in the education of a generation of scientists/engineers at all levels starting from the undergraduate (basic) to the graduate MS and PhD levels (specialized and often applied).
LEADERSHIP OF YACHAY TECH
| Name | Yachay Tech Position | Ph.D. Title | Current Academic Position |
| --- | --- | --- | --- |
| Ares Rosakis, Ph.D. | Chairman of the Board at Yachay Tech | Solid Mechanics, Subspecialty in Materials Science and Math, Brown University USA | Dean, Division of Engineering and Applied Science, Caltech University |
| Guruswami Ravichandran, Ph.D. | Academic Vice President of the Board | Engineering, specializing in Structural Mechanics, Brown University USA | Director, Graduate Aerospace Laboratory at CalTech University |
| Jose Andrade, Ph.D. | Academic Secretary of the Board | Civil Engineering, specializing in Geomechanics, Stanford USA | Director of the Laboratory of Geomechanics, at CalTech University |
LOCATION DESCRIPTION
The Yachay, City of Knowledge is the first planned city of Latina America whose purpose is to drive regional development and to become the motor powering science, technology, research and innovation. The vision of Yachay City is to implement a triple helix model which interweaves the public sector, academia and the private sector to create a network for interaction among scientists, investors and entrepreneurs creating a spontaneous ecosystem of research, international business and creativity
Phase 1 currently being developed, from 2012 until 2017, concentrates on the knowledge sector, which began with the construction of Yachay Tech and the academic campus, and will continue with the construction of facilities to house Ecuador's 13 Public Research Institutes (The IPIs), business and commercial centers and the initial infrastructure for private companies and entrepreneurial projects.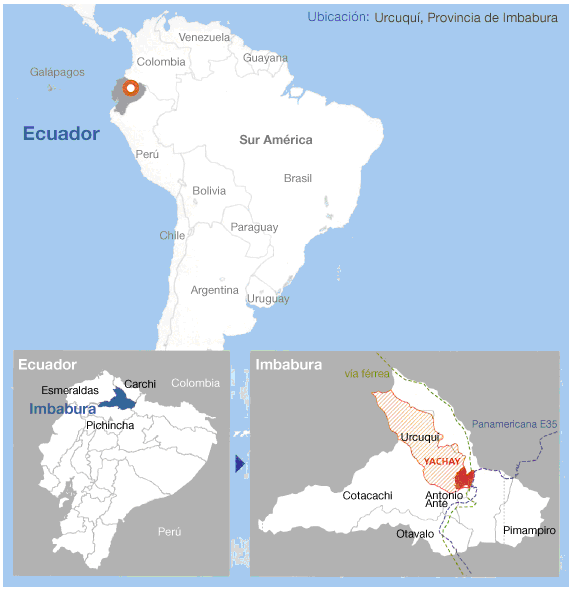 Located in northern Ecuador, Imbabura province stands at a height of 2225 meters above sea level, beautifully decorated with cinder cone volcanoes, agricultural landscapes and a volcanic mountain occasionally covered in snow. The volcano, named the "Taita Imbabura", has been inactive for the last 14,000 years but its beauty and surrounding fertile land have made the province a thriving center for Ecuadorians and tourists alike.
Imbabura is recognized as the most visited province of Ecuador. Cities like Atuntaqui, Otavalo, Cotacachi and the capital, Ibarra, have developed to attract tourism and expats from all over the world.
The capital city of Imbabura is Ibarra, otherwise known as the "White City", referring to the Spanish style Whitewashed houses surrounding the parks and the cobble-stone streets.
Ibarra's weather is dry-temperate Mediterranean modified by warm winds coming from the valleys and meadows of the Andes Mountains. The daily temperature range through the year remains pretty constant with a low of 8 and a high of 18 degrees Celsius.
Its current population is of 181,175 people, of which 35,000 are immigrants from Colombia, Portugal, Spain and the United States. The high percentage of immigrants has grown because of Ibarra's high quality of education, efficient health System and its culture greatly influenced by the Spaniards who left irreplaceable traditions such as bullfighting, wine making and an elaborate cuisine.
For entertainment, Ibarra offers many possibilities. Decorated with many architectural jewels, such as historical Basilicas and Cathedrals, it provides interesting sight seeing opportunities. For the natured inclined visitors, seven parks form a Green System where running, soccer, rock climbing, tennis and basketball games are constantly in season. Last but not least, residents of Ibarra can enjoy trips to volcanic pools, spas, train rides through the Andes, fishing, hunting, canoeing and can even enjoy a day at the Formula 1 race track.
Imbabura province and Ibarra are the perfect places to host multicultural families who are ready to explore the beauty of Ecuador at a very minimal cost of living (refer to table 1).
COST OF LIVING IN IBARRA
| Category | USD |
| --- | --- |
| Meal, inexpensive Retaurant (one person) | $3.00 |
| Meal for 2, three course | $10.00 |
| Domestic beer | $1.00 |
| Imported beer | $2.00 |
| Cappuccino | $1.50 |
| Water (.22 liter bottle) | $0.43 |
| Milk (1 liter) | $1.00 |
| Loaf of White bread | $1.03 |
| Apples (1 kg) | $2.50 |
| Potatoes (1 kg) | $0.63 |
| Pack of Cigarettes | $3.50 |
| Taxi 1 (1 km) | $1.00 |
| Gasoline (1 liter) | $0.44 |
| Basic utilities (electricity, heating, water, garbage) | $15.00 |
| Cinema | $4.00 |
| Rent per month- Apartment 1 bedroom | $130.00 |
| Rent per month- Apartment 3 bedroom | $283.00 |
| Average monthly disposable Salary | $326.67 |
| *Source:http://www.numbeo.com/cost-ofliving/city_result.jsp?country=Ecuador&city=Ibarra | |
YOUTUBE VIDEO
Yachay Tech University homepage: http://www.yachaytech.edu.ec/en/
Showing 0 higher education jobs at Yachay Tech University.
Subscribe today
to be notified by e-mail about the latest Pharmacy positions!
---